The SUCCEED FBT is a critical resource for every vet to have in his or her truck. Still, because the FBT represents new technology, and a new approach to GI tract diagnostics, veterinarians are likely to have questions about it. Here we've addressed six of the questions you are most likely to be asking.
Does the FBT Work? Positive Predictive Value Assessment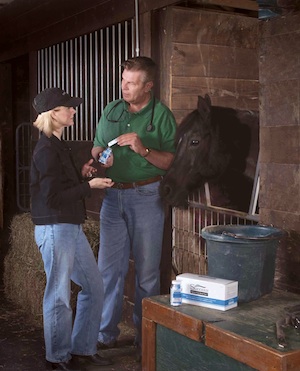 The FBT test utilizes antibodies to detect two components of occult equine blood in a fecal sample, which can differentiate location and severity of gastric or colonic injury, usually gastric or colonic ulcers.
Test "A" detects Albumin and Test "H" detects Hemoglobin. The current test has a Positive Predictive Value of 95% for Test A, and 97% for Test H, compared to visual observation of gastric & colonic ulcers in necropsy, with a p-value of less than 0.05 for both (2011 cohort, N=178).
Read more about the accuracy of the SUCCEED FBT
How to Administer the Test
The contents of one FBT kit, about 3 ounces of ordinary tap water, and a fresh fecal sample from the subject horse, is all that is necessary to test for the presence of albumin and hemoglobin. To run the test, mix the fecal sample with water and apply two drops to the wells for Test A and Test H on the test cassette. Results are visible within 15 minutes.

Read all instructions, and watch this video for step-by-step directions.
How the FBT Works
The FBT is a dual rapid lateral-flow immunoassay that utilizes proprietary antibodies to detect the protein components of equine blood (albumin and hemoglobin) in a fecal sample. Detecting trace amounts of these proteins indicates a likely ulcer, and identifies whether it is gastric and/or colonic.
A positive FBT result for Albumin (Test A) indicates hindgut injury where albumin is present. A positive Test H, indicating the presence of hemoglobin indicates injury anywhere along the GI tract of the horse where whole blood is present.
Read more about how the SUCCEED FBT works   
Getting a Positive Test Result: What Now?
A positive test result should be combined with other diagnostic indicators to complete a differential diagnosis of the patient. This should only be completed by the veterinarian. It is imperative to follow a treatment plan appropriate to the condition, since the treatments for gastric and colonic ulcers vary. We will explore this more in depth at a future date.
Read more about interpreting FBT results
How the FBT Test Benefits a Vet Practice
Used in conjunction with a horse's history, gross observation, blood work and other diagnostic tools, the FBT can help enhance a veterinarian's differential diagnosis by providing objective diagnostic data.
The FBT is a practice-builder, both in direct revenue and perhaps more importantly in indirect ways: (i) identifying and isolating colonic from gastric issues, (ii) faster & better treatment arising from objective diagnostic data, (iii) improved practice reputation.
Learn more about how the FBT can benefit the veterinarian's practice
How Much Research Went into the Concept and Launch of the FBT?
Under the direction of our VP of Veterinarian Medicine, Franklin Pellegrini, DVM, we conducted a range of research projects to support the SUCCEED FBT concept and to verify its accuracy. Five separate necroscopic studies involving more than 1000 horse subjects were conducted between 2003 and 2011.
Read more about the research behind FBT
Veterinarians interested in trying the SUCCEED FBT in their practices can purchase it through major veterinary supply distributors.