A once-a-day, every-day nutritional program available exclusively through equine veterinarians.
Take a natural, nutritional approach to managing GI health in your clients' horses. SUCCEED Veterinary Formula (VF) offers a long-term program to establish and maintain the long-term health of the entire equine gastrointestinal tract.
This veterinary-exclusive formula provides nutrients used by the body to maintain the integrity of the gut wall, support efficient nutrient absorption, assist in cell repair, remove pathogens, maintain immune function, and more. It's one of the only products available to work effectively on the hindgut.
Equine veterinarians in the United States caring for performance horses are eligible for a free trial of SUCCEED Veterinary Formula. If you are interested, please schedule a quick meeting with our Regional Manager, Courtney Brockmueller, so she can collect your information.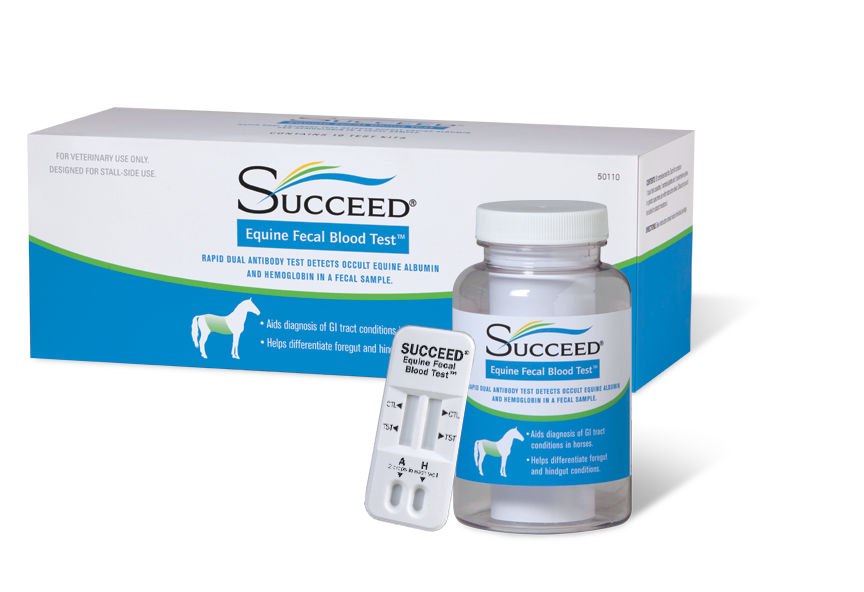 SUCCEED® Equine Fecal Blood Test (FBT)
A simple, stall-side test that uses antibodies to detect the presence of GI injury in horses.
Helps differentiate foregut from hindgut issues
Provides results within 15 minutes (usually less)
Inexpensive and simple to use stall-side, or in any situation