Achieve Total GI Health with SUCCEED
As the equine GI health experts, it has always been our goal to equip equine veterinarians with the tools they need to help the whole horse. When it comes to treating the equine gastrointestinal tract, veterinary care should focus on two main things: 1.) problem identification and 2.) solution/management. With the proper diagnostic aid and nutritional support, you can achieve total gut health in your clients' horses.
Our extensive research in animal health along with rigorous testing and evaluation have resulted in products that are safe, easy to use and effective at detecting and managing equine GI conditions.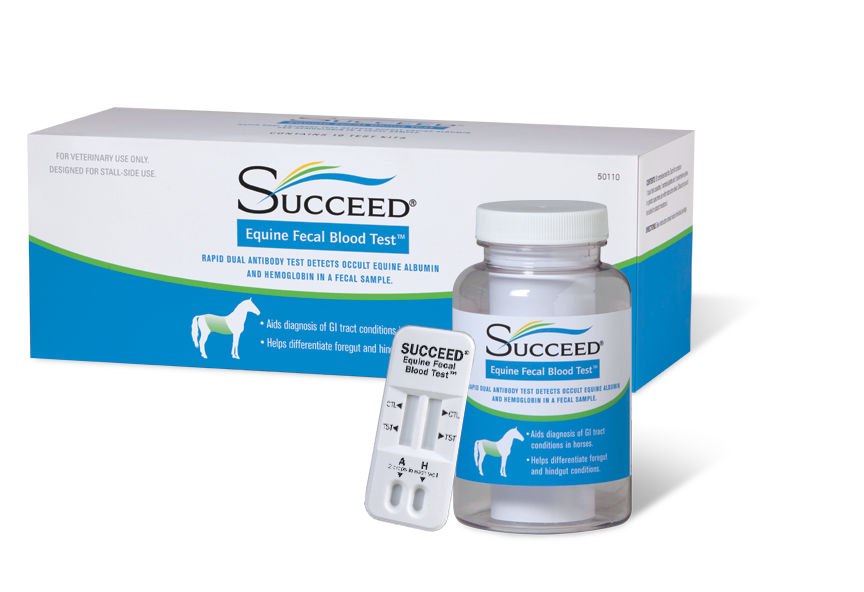 SUCCEED® Equine Fecal Blood Test (FBT)
A simple, stall-side test that uses antibodies to detect the presence of GI injury in horses.
Helps differentiate foregut from hindgut issues
Provides results within 15 minutes (usually less)
Inexpensive and simple to use stall-side, or in any situation
For Ongoing Gut Health Management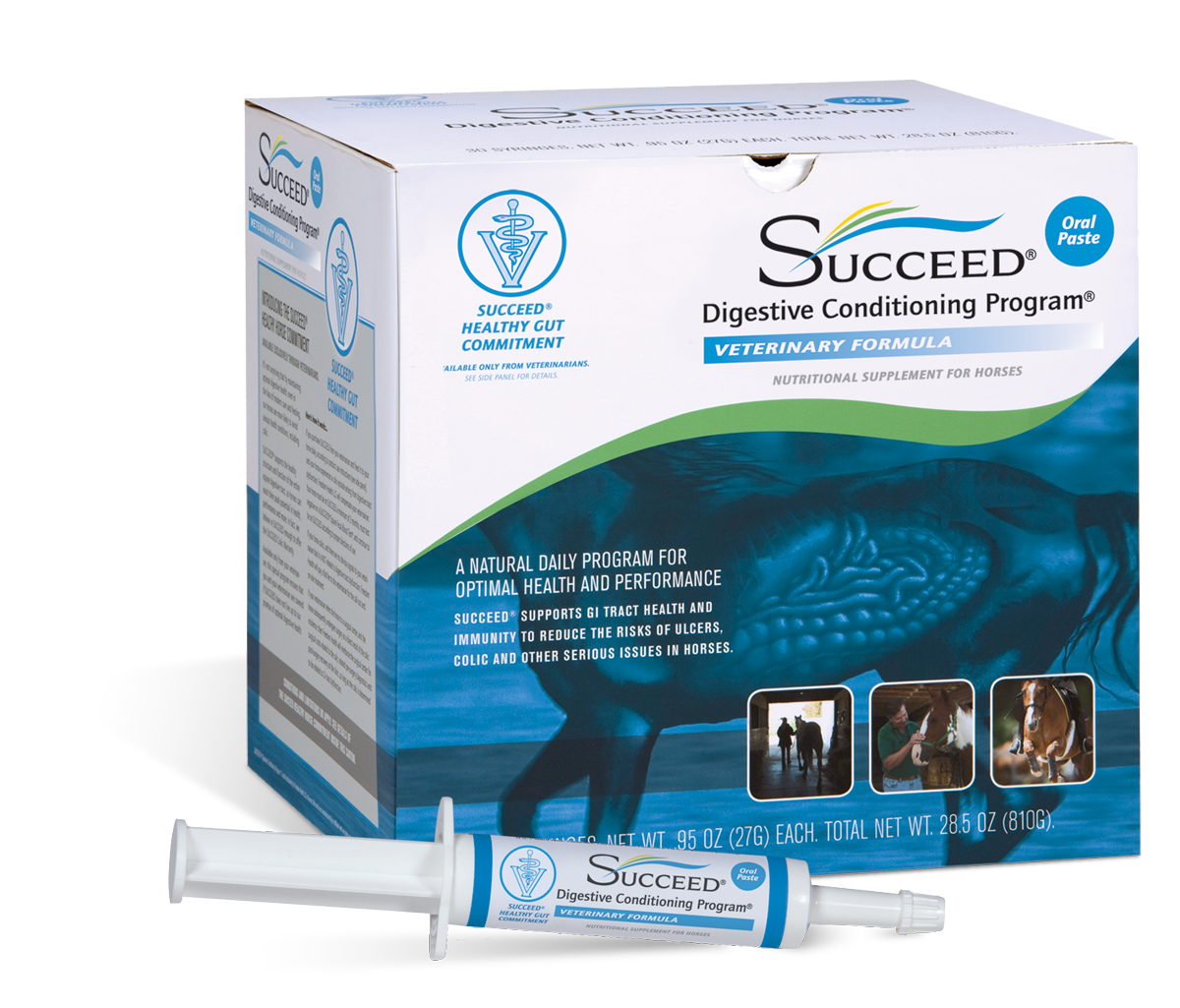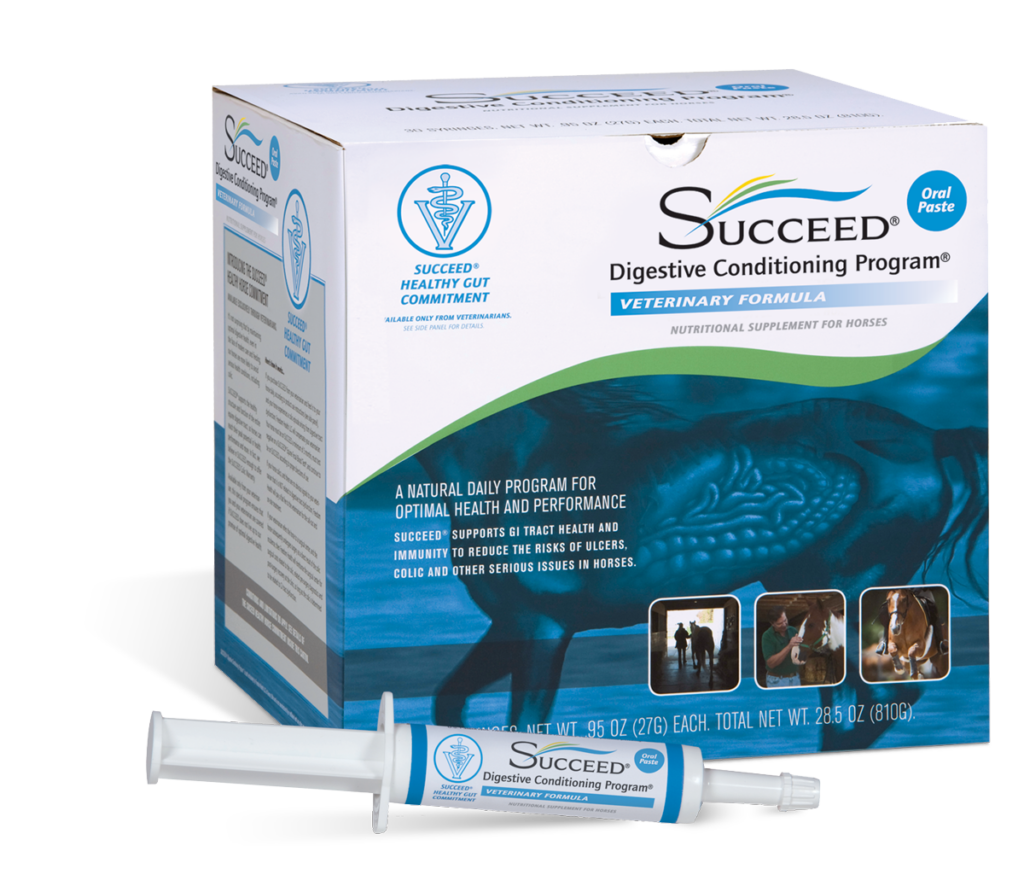 SUCCEED® Veterinary Formula
Provides advanced support for the health of the entire equine gastrointestinal tract using a natural, nutritional approach.
Sold exclusively through veterinarians
Builds on the OTC SUCCEED formula with added amino acids to further support mucus production, development of enterocytes and the biosynthesis of proteins that aid muscle tone
Backed by the Healthy Gut Commitment colic reimbursement program
*Licensed for sale in the United States only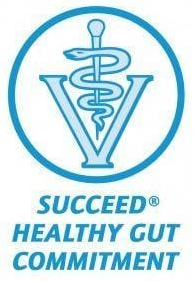 SUCCEED® Healthy Gut Commitment
The first colic reimbursement program in its class that sets the bar in supporting your practice.
Pays the vet up to $15,000 for colic surgery claims
The only program to pay for medical colic calls (up to $800)
Pays the vet directly
*Only available in the United States with SUCCEED Veterinary Formula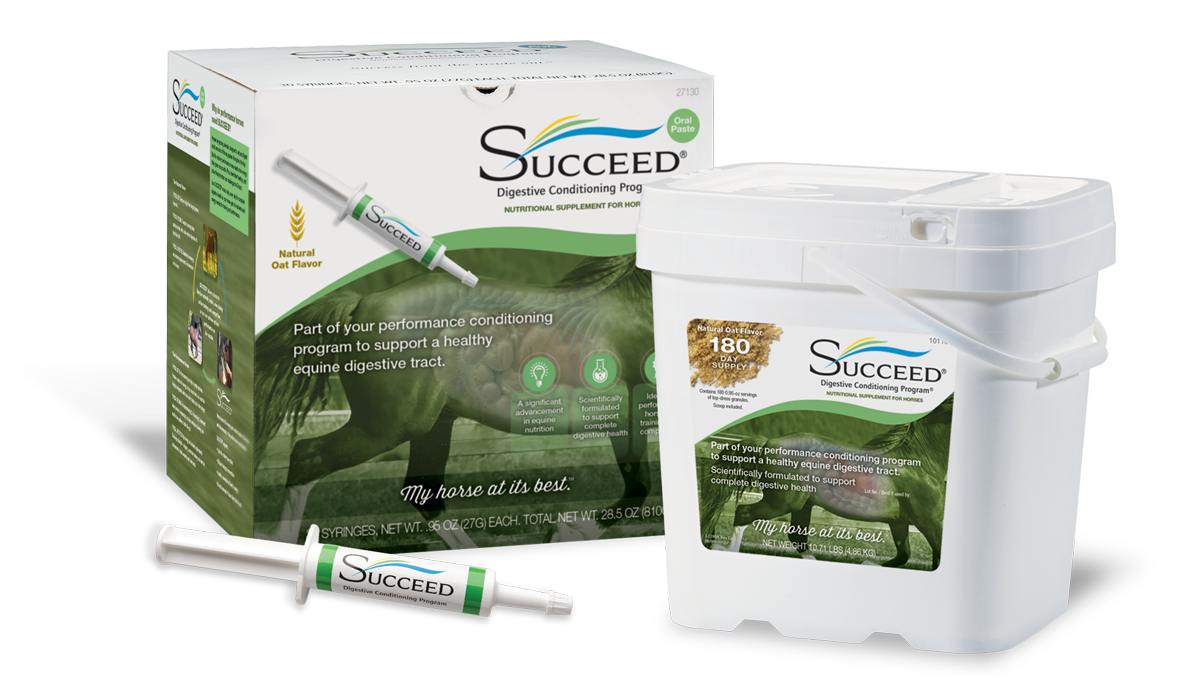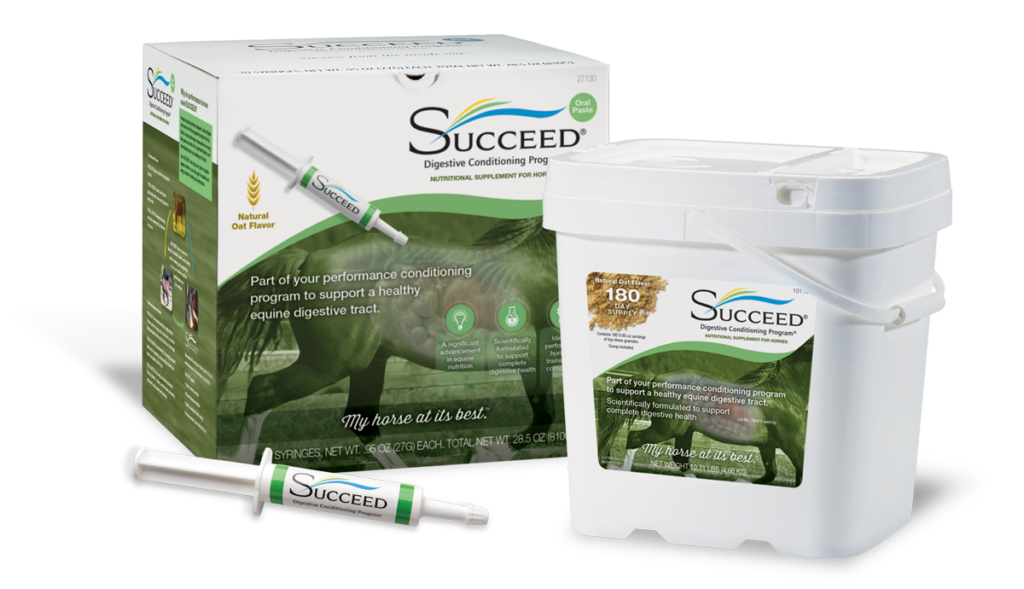 SUCCEED® Digestive Conditioning Program
A unique, natural formula that supports healthy gastrointestinal function and performance in horses.
Helps maintain the health of the entire digestive tract, especially the hindgut
Address root causes of GI problems while supporting overall health and wellness for the horse long-term
A simple, daily nutritional program that fits readily into your clients' regimens
Where to Buy SUCCEED® Products
All SUCCEED products are available for purchase through veterinary supply distributors for you to resell to your clients.
Your clients may also purchase SUCCEED Digestive Conditioning Program from local and online retailers throughout the United States and Canada.
Ask Us About Free SUCCEED Trials
Interested in better equine GI diagnostics and management with SUCCEED products? U.S. veterinarians can request a free trial of the SUCCEED FBT or SUCCEED Veterinary Formula by setting up a quick meeting with our Regional Manager, Courtney Brockmueller.
Serious Equine Practitioners Use SUCCEED®
"I started them on SUCCEED Digestive Feed Supplement and the results have been quite startling. Within a few days many of these animals became significantly calmer, less resistant, more forward going and have stopped misbehaving when ridden, much to the relief of their worried riders."
"The stress associated with high caloric diets, training schedules and trailering can lead to serious health issues in horses, and can affect performance, attitude, efficient digestion and more. We have found that SUCCEED is an effective natural treatment for horses facing many of these conditions."
"I have used the SUCCEED Digestive Conditioning Program product in clinical settings, often as an adjunct therapy with pharmaceutical treatments. I have found this product to be beneficial, particularly for foals and horses that do not respond to other therapies. I would also recommend SUCCEED as part of an ongoing digestive wellness program."
Review extensive research, read peer-reviewed research, and review trial data on these products.