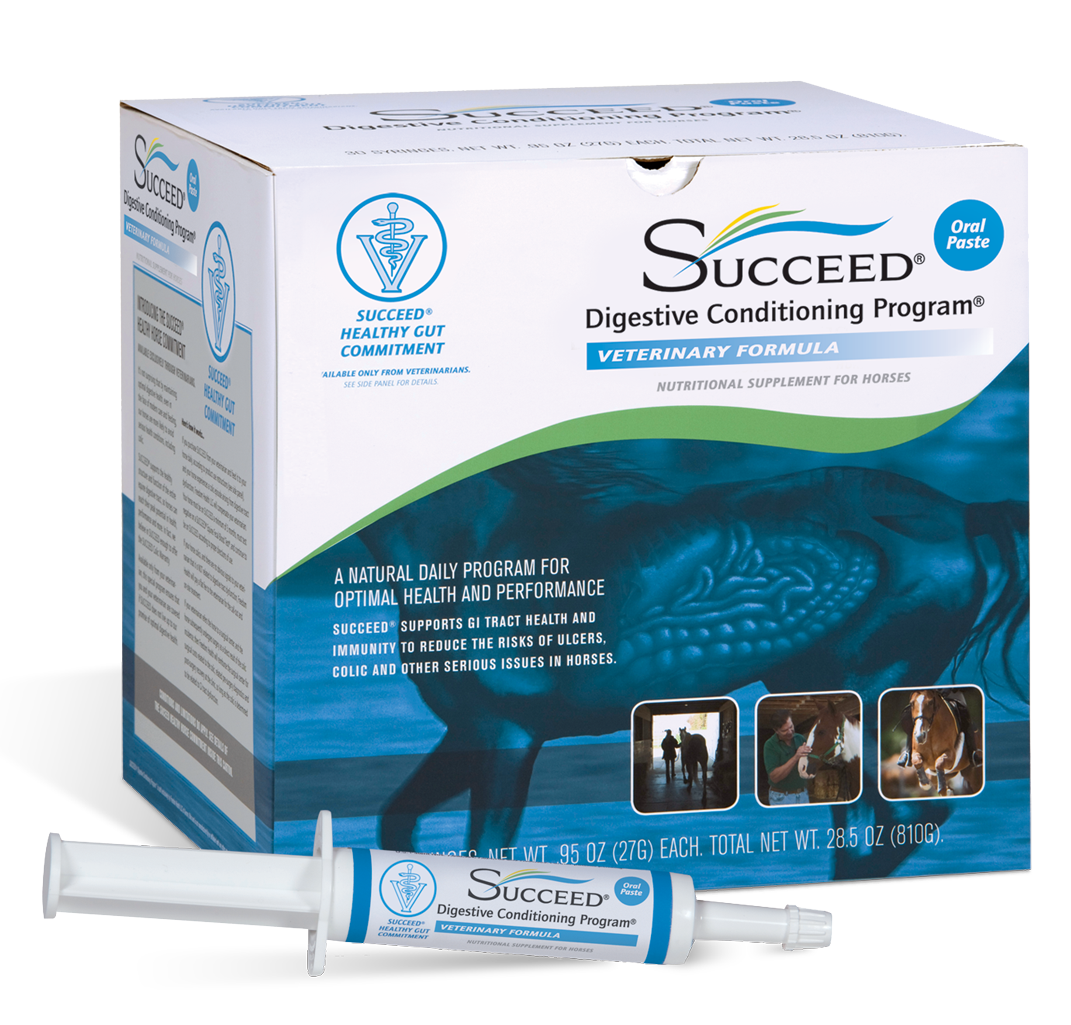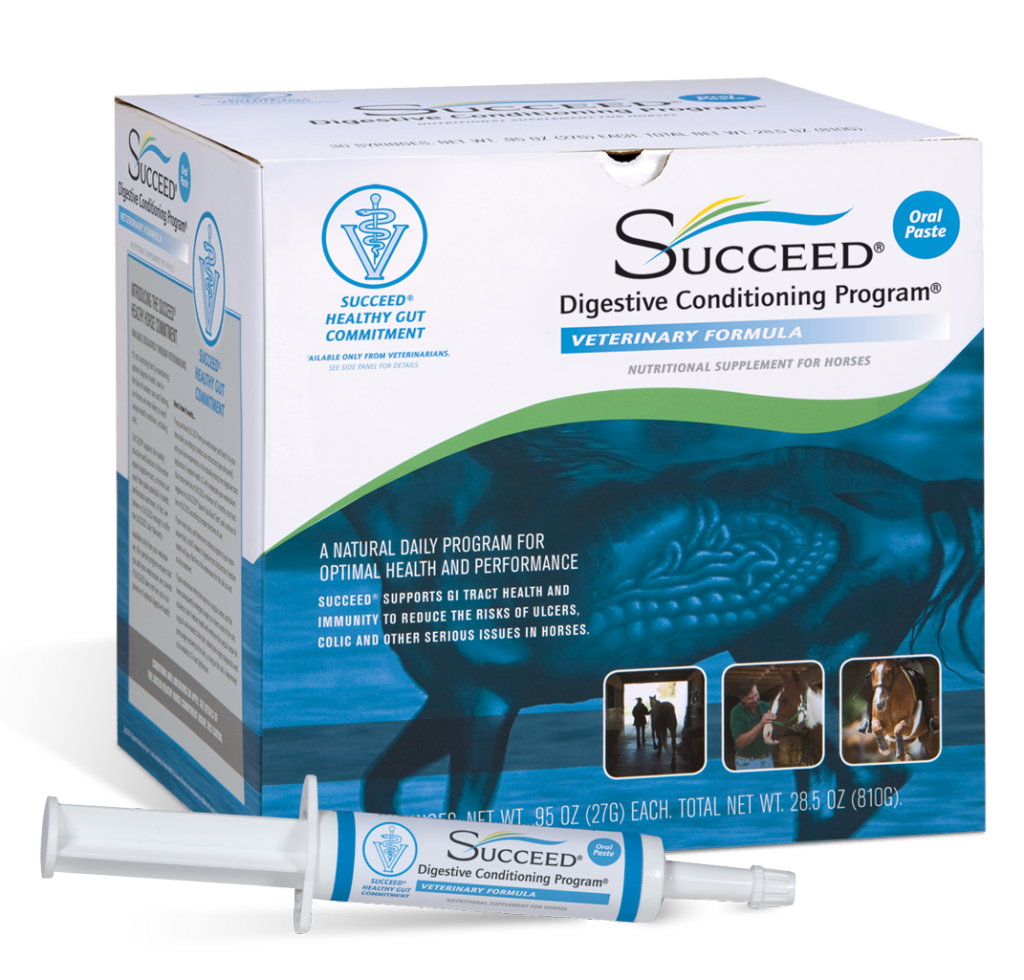 SUCCEED® Veterinary Formula
An advanced formula sold exclusively through veterinarians and backed by up to $15K in colic coverage via the Healthy Gut Commitment.
1 – 26.5g serving per oral syringe
30 oral syringes per carton
Note: SUCCEED Veterinary Formula is available through veterinarians in the U.S. only.
Achieve Total GI Health with a Natural Supplement Formula
Take a natural, nutritional approach to managing GI health in your clients' horses. SUCCEED Veterinary Formula (VF) offers a long-term program to establish and maintain the health of the entire equine gastrointestinal tract. It provides nutrients used by the body to maintain the integrity of the gut wall, support efficient nutrient absorption, assist in cell repair, remove pathogens and maintain immune function.
With this patented product, you get a trusted, natural approach to supporting GI health long term.
Backed by rigorous scientific studies proving the benefits of each ingredient.
One serving of SUCCEED once a day, every day with regular feed is all it takes.
Provides ongoing nutritional support of a healthy and effective digestive tract.
Supports Anatomy + Function
SUCCEED includes support for both GI tract anatomy and function.
Trusted Quality + Consistency
Ingredients are certified human-food grade or above and supplement production is Good Manufacturing Practice certified.
The noninferiority of Succeed compared to omeprazole at 90 days for the complete resolution of squamous ulceration and the reduced efficacy of omeprazole following 90 days of treatment are likely to be of interest to practitioners managing gastric ulceration in performance horses.
N.C. Kerbyson et al. / Journal of Equine Veterinary Science, 2016
A Product Exclusively for Equine Veterinarians
Sold exclusively through veterinarians, SUCCEED VF builds on the foundation of the original SUCCEED formula (SUCCEED Digestive Conditioning Program) with added amino acids to further support mucus production, healthy development of enterocytes and the biosynthesis of proteins that aid healthy muscle tone. As a nutritional product, it does not test in competition horses.
Builds on the original SUCCEED formula with five additional amino acids to further support mucus production and building muscle.
Sold Exclusively Through Veterinarians
Unlike the original SUCCEED, Veterinary Formula is available for purchase through veterinary practitioners only.
$800 Medical Colic and $15K Surgical Colic Coverage
Backed by the SUCCEED Healthy Gut Commitment, a veterinary colic reimbursement program that pays the veterinarian for medical or surgical colic treatment.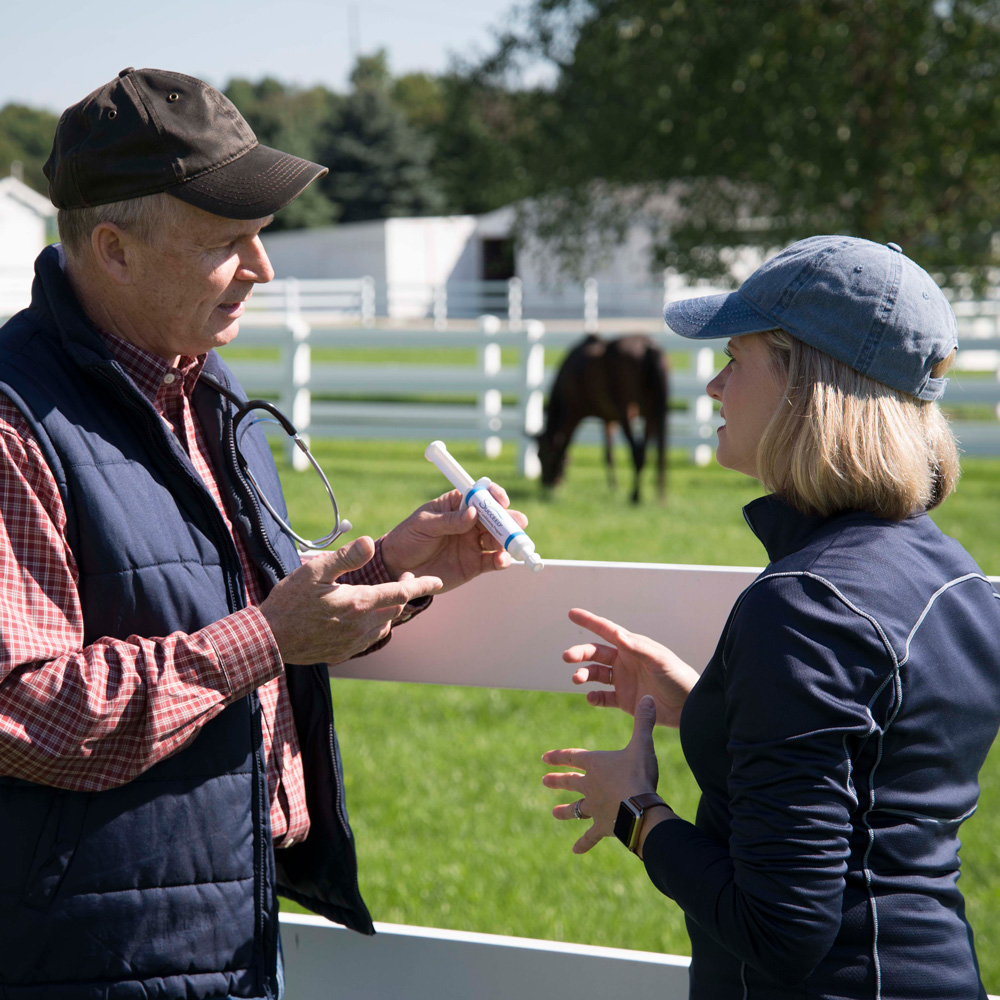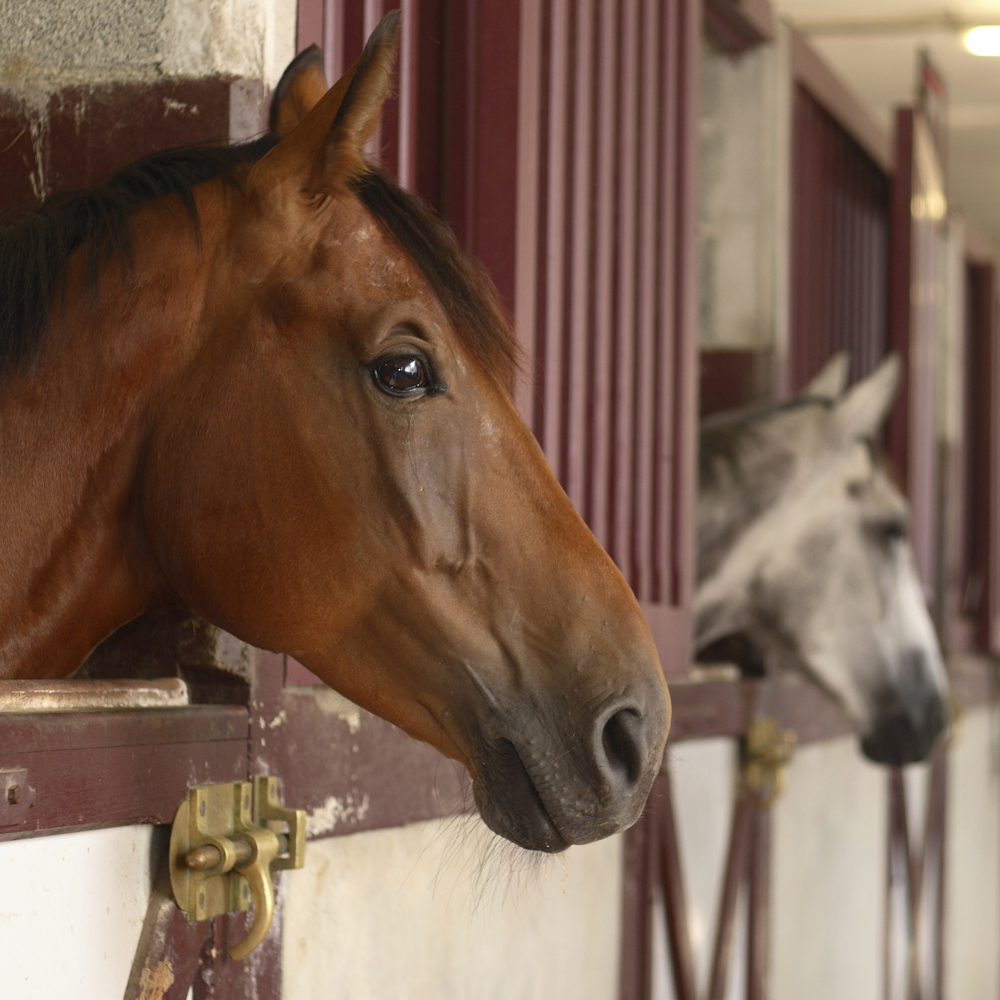 Formulated Specifically for Performances Horses
The high-intensity work that is asked of performance horses, coupled with traveling and irregular feeding patterns, can easily cause gastrointestinal and immune system dysfunction. If any of the following lifestyle attributes apply to your clients' horses, it is likely they will benefit from the specialized nutrients in SUCCEED Veterinary Formula:
Confined to a stall 6 or more hours a day

Exercised regularly, especially rigorously

Travels to events or shows once per month or more
Fed two or three times per day

Used as a stallion or brood mare

Turned out to graze for less than 18




hours per day

Restricted access to forage
Fed concentrates such as processed grain, pellets or sweet feed

A foal facing the challenges of development, weaning or sales prep
Full Dose and Half Dose treatments exhibited a dosage-dependent improvement in gastric ulcers, reducing the average severity to less than 0.5 by the end of the study.
Bedding, P. et al. / Freedom Health, 2006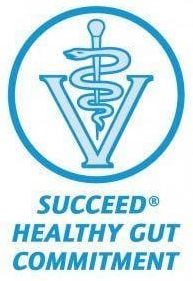 Backed by the SUCCEED® Healthy Gut Commitment
SUCCEED Veterinary Formula comes backed by this special program, which ensures that you and your clients are covered (up to $15,000) if SUCCEED does not live up to its promise of optimal GI health.
Note: Currently available only in the U.S.
Ask Us About a Free Trial
Are you interested in continuing the conversation on equine GI health management and SUCCEED? Schedule time to talk with Freedom Health Regional Manager Courtney Brockmueller. By clicking below, you'll schedule a time on her calendar for her to give you a call. She will be happy to answer your questions, talk with you about possible product trials, or get you set up to sell SUCCEED.
Learn More About SUCCEED® Veterinary Formula
Ingredients

Guaranteed Analysis

Directions for Use

Storage & Handling
Only in Succeed veterinary formula
Amino acids that support the normal production of mucus in healthy animals, which coats the wall of the entire GI tract.
L-Lysine, L-Isoleucine, L-Leucine
Amino acids that support healthy muscle tone.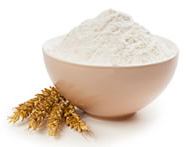 Obtained from the hull of a higher bran oat and processed to retain a high concentration of beta glucan. This moderates rate of digestion for more complete absorption, regulates release of sugars, and supports immunity.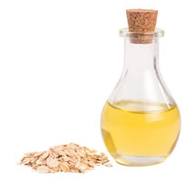 Our oat oil is extracted through a unique process to retain a high concentration of polar lipids. Polar lipids aid nutrient absorption, strengthen the lining of the gut, and support healthy brain function.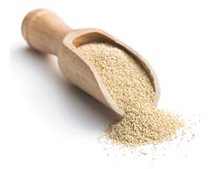 The saccharomyces cerevisiae strain of yeast includes beta glucan and mannan oligosaccharide. These act as prebiotics to feed healthy growth of beneficial bacteria in the hindgut. They also support a healthy microbiota balance, healing, and immunity while blocking harmful components from escaping the gut.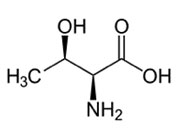 L-Threonine supports production of mucin, a necessary component of the mucus that lubricates and protects the gut lining. It contributes to smooth gut function, nutrient absorption, healthy metabolism, and stress resilience.
Replenishes the natural supply of L-glutamine which can be depleted by intense exercise. It supports muscle tissues and the tight junctions in the gut lining.
Crude Protein (Min)

12.00%
*Not recognized as an essential nutrient for horses.
Empty entire contents of one syringe into horse's mouth. Feed twice each day for the first week of use, once a day thereafter.
For best results, use with regular feed or immediately before feeding. May be used as top dress on feed (do not mix).
Store at temperatures below 100℉ (38℃). Keep out of direct sunlight.
From the very beginning, SUCCEED has been developed on a strong foundation of science and research and supported with extensive trials to test performance and clinical value.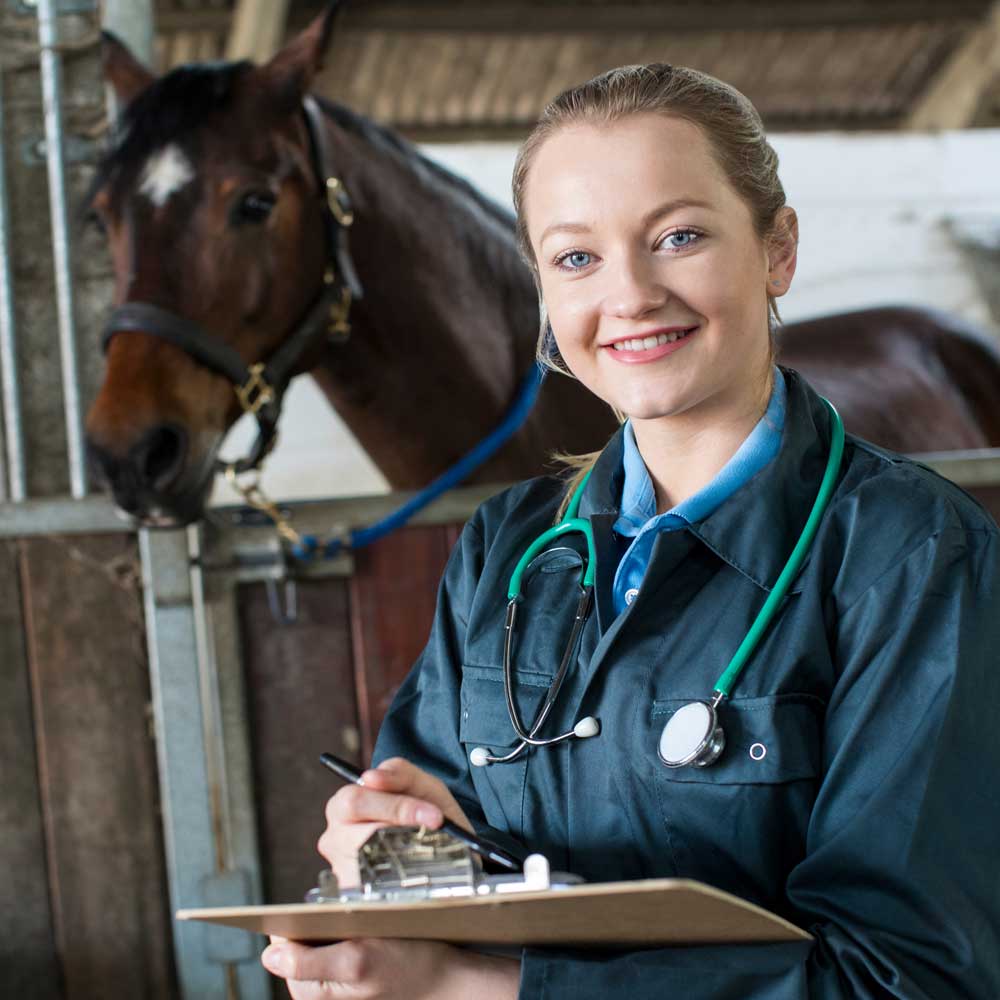 What Equine Veterinarians are Saying
Learn how other veterinarians are using SUCCEED products within their practices, and the benefits they are seeing for their clients and their horses — as well as for their businesses.
"The SUCCEED nutritional supplement is an excellent product that I now routinely feed as part of my management of all horses demonstrating intestinal disturbances, loss of condition, poor performance or have developed behavioral issues when ridden."
"The stress associated with high caloric diets, training schedules and trailering can lead to serious health issues in horses, and can affect performance, attitude, efficient digestion and more. We have found that SUCCEED is an effective natural treatment for horses facing many of these conditions."
"I have used the SUCCEED Digestive Conditioning Program product in clinical settings, often as an adjunct therapy with pharmaceutical treatments. I have found this product to be beneficial, particularly for foals and horses that do not respond to other therapies. I would also recommend SUCCEED as part of an ongoing digestive wellness program."
Where to Buy SUCCEED® Products
All SUCCEED products are available for purchase through veterinary supply distributors for you to resell to your clients.